Chris Blair Memorial College Fund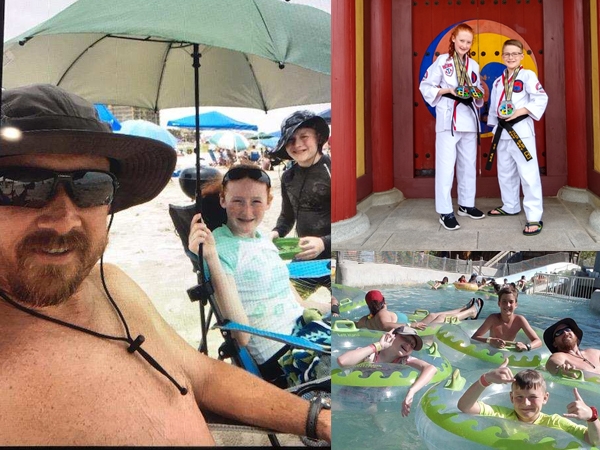 On Friday, July 12th we received heartbreaking news that didn't seem possible.  Chris passed suddenly and unexpectedly from this life into eternity. We know that he is with our God in heaven and we take comfort in knowing that we will see him again.

Chris was a son, brother, uncle, friend, and dad to two amazing kids—Kayla (age 14) and Tyler (age 12). Chris was an incredible father who loved Kayla and Tyler dearly. They had just celebrated the 4th of July in Galveston spending time at Schlitterbahn and the beach.  The memories from this trip will be with Kayla and Tyler forever.  This last week on Thursday, July 11th, Chris had traveled to Little Rock, Arkansas to watch Kayla and Tyler compete for a World Title in Taekwondo at the Tournament of Champions.  Tyler placed 4th in weapons and Kayla placed 5th in weapons in their age groups.  Chris was so very proud of them, and they were ecstatic that he was there to see their performance.  As he left and headed home he told Kayla, "Te quiero mi hijita" (I love you my little girl) as he always had since she was a baby. He told Tyler, "I love you, more" as he had said so many times before.
Kayla and Tyler will grow up without their amazing dad.  For that, we are all very sad.  We want to lessen their financial burden in continuing their education after graduation.
We have established this fundraiser to honor Chris' memory by raising funds to ensure that Kayla and Tyler will be able to fulfill their dreams of going to college.
We are so thankful for any amount of support that you may be able to provide. Your donations will be placed into a college trust fund.  No donation is too small.  Please keep praying for Kayla and Tyler as well as all the Blair family. Thank you in advance for all your prayers, love, and support!
Fundraiser Updates
Donors
T. Blake (Flower Mound, Texas)
T. Blake (Flower Mound, Texas)
J. T (Flower Mound, Texas)
D. Maddux (TEMPLE, Texas)
W. Allen (Denver, Colorado)
J. Novota (Lewisville, Texas)
B. Blair (Elizabethton, Tennessee)
H. Kothandan (Flowermound, Texas)
A. Vang (Carrollton, Texas)
B. Marshall (Carrollton, Texas)
M. King (Lewisville, Texas)
Anonymous (Lewisville , Texas)
K. Stricklen (Lewisville, Texas)
G. Utley (Bossier City, Louisiana)
T. Nguyen (Fort worth, Texas)
K. Kerecman (Bartonville, Texas)
A. Giacumakis (Lantana , Texas)
Anonymous (Frisco, Texas)
$1,640 of $50,000
3.2806% Complete (success)
Fundraiser has ended